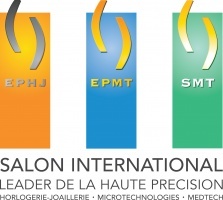 20.06. to 23.06.2017 Palexpo Genève
Date Conference
21.06.2017
Time
12:30 to 18:00
This Workshop organized by Swissphotonics, the Swiss National Thematic Network (NTN) for photonics, will take place in the framework of the Salon International EPHJ - EPMT - SMT, the most important annual exhibition for Swiss suppliers of watch industry and micro technology
EPHJ
The event will be of value to companies that are established in the sector or are looking to develop products there, as well photonics academics with an interest in industrial collaboration and commercialisation.
Programm
12:30 Arrival and Welcome Coffee
13:00 Talks
14:30 Networking Break
15:00 Talks
16:20 Apéro Riche
Conference language
French
Slides and discussion English
Cost
This workshop is free of charge
F Enregistrement
A.
Créez votre badge visiteur gratuit pour le Salon EPHJ • EPMT • SMT:
LIEN
Chacun doit soit s'identifier, soit créer son compte.
Votre adresse e-mail fait office de login.
B.
Cliquez s.v.p. ensuite ici sur le site Swissphotonics en haut à droite sur
Registration
pour se registrer pour le workshop Swissphotonics.
E Registration
A.
Free registration at the Salon EPHJ • EPMT • SMT:
LINK
Everyone needs to identify or create an account.
Your e-mail address serves as a login.
B.
Than click please at the top right of the Swissphotonics website on
Registration
to register for the Swissphotonics Workshop..
Deadline for Registration
15 June 2017
Venue

Palexpo Genève-Airport, salle
T
Route François-Peyrot 30
1218 Grand-Saconnex GE
Map
Public transport
walking distance from Genève-Aéroport (railway station and airport)
Le comité scientifique d'organisation
- Prof. em. Dr. René Salathé, Owner
Grizzly Photonics Sàrl
, Ecublens VD
- Prof. Dr. Patrik Hoffmann, Head Laboratory Advanced Materials Processing,
Empa
Thun BE
- Jean-Jacques Goy, Directeur
GMP SA
, Renens VD
Coordinator
SNAP
Swiss National Application Laboratory for Photonic tools and manufacturing, a Swiss National Photonics Lab
Prof. Dr. Patrik Hoffmann
058 7656262
EMPA Abt. 126
Feuerwerkerstrasse 39, 3602 Thun BE
Switzerland
Contact
Dr. Christoph S. Harder
President Swissphotonics
079 219 90 51
Co-sponsored by Photonics21 / Europho21/ Swissmem:


17.07.2017 Beni Muller + Jennifer Pelikan