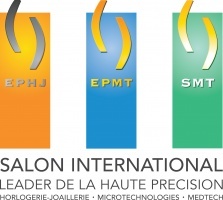 Swissphotonics
presents in collaboration with
Photonics21
and
Swissmem
a conference on
Laser Microprocessing Solutions
integrated in the Professional Salon
EPHJ • EPMT • SMT
, the leading exhibition for watchmakers and jewelers

Agenda
12:30 Arrival and Welcome Coffee (Sponsoring Swissphotonics)
13:00 Talks
15:00 Networking Break (Sponsoring
Swissmem
)
15:30 Talks
17:00 Apéro Riche (Sponsoring Swissphotonics)
18:00 End of workshop
Conference language
French slides and discussion English
Cost
This workshop is free of charge
Venue

Palexpo SA, Salle T, Room T
Route François-Peyrot 30
1218 Grand-Saconnex GE
Map
Public transport
walking distance from
Genève Aéroport
(railway station and airport)
Registration
A. Créez votre badge visiteur gratuit pour le Salon EPHJ • EPMT • SMT:
LIEN
Chacun doit soit s'identifier, soit créer son compte.
Votre adresse e-mail fait office de login.
B.
Cliquez en-haut à droite sur
Registration
pour le workshop Swissphotonics.
A.
Free registration at the Salon EPHJ • EPMT • SMT: LINK
Everyone needs to identify or create an account.
Your e-mail address serves as a login.
B.
Click on top at the right on Registration for the Swissphotonics Workshop.
Deadline for Registration
9. Juin 2015
Le comité scientifique d'organisation
- Prof. em. Dr. René Salathé, Owner
Grizzly Photonics Sàrl
, Ecublens VD
- Prof. Dr. Patrik Hoffmann, Head Laboratory Advanced Materials Processing,
Empa
Thun BE
- Jean-Jacques Goy, Directeur
GMP SA
, Renens VD
Coordinator SNAP
S
wiss
N
ational
A
pplication Laboratory for
P
hotonic tools and manufacturing, a Swiss National Photonics Lab
Prof. Dr. Patrik Hoffmann
Contact
Christoph S. Harder
President Swissphotonics
+41 79 219 90 51
Co-sponsored by
Photonics21 / Europho21

Beni Muller, 27. Juni 2016