EPIC and SUSS Meeting on Wafer Level Optics
The purpose of this meeting is to discuss the benefits and motivation of migrating towards wafer level manufacturing of optical diffractive, refractive or reflective components. The main goal of the meeting is to discuss applications in CMOS image sensors, automotive lighting, AR/VR headsets, medical, datacom, consumer electronics etc. between technology providers, system integrators and users.
Some manufacturing processes will also be discussed including large area master fabrication using a step and repeat UV-NIL (ultra-violet nanomprint lithography) systems, the working stamp material and its fabrication. Furthermore, processes to evaluate the quality of the wafer level optics and lens stacking will be evaluated according to the lens-to-lens and wafer-to-wafer alignment accuracy, quantitative optical/surface measurements and lens shape fidelity, depending on each of the application fields.
Date
Thursday and Friday, 7. + 8. November 2019
---
Agenda
7. November 2019 Thursday
| | |
| --- | --- |
| 12:00 | Registration & Lunch at EPFL MicroCity |
| 13:00 | Welcoming |
| 13:15 | KEYNOTE presentation by a representative of SUSS MicroOptics SA |
| 13:45 | Session 1 |
| 14:45 | Coffee break |
| 15:30 | Session 2 |
| 17:45 | Bus transfer from EPFL MicroCity to the dinner place (if needed) |
| 18:30 | Dinner at Maison des Halles sponsored by Swissphotonics NTN |
| 22:45 | Bus transfer from the restaurant to the recommended hotel (if needed) |
8. November 2019 Friday
| | |
| --- | --- |
| 08:00 | Bus transfer from the recommended hotel to EPFL MicroCity (if needed) |
| 08:30 | Morning coffee at EPFL MicroCity |
| 09:10 | Recap by Jose Pozo, CTO, EPIC |
| 09:15 | Session 3 |
| 10:45 | Coffee break |
| 11:30 | Session 4 |
| 13:00 | Lunch at EPFL MicroCity |
| 14:15 | Company visit at SUSS Micro Optics SA |
| 15:45 | End |
---
Venue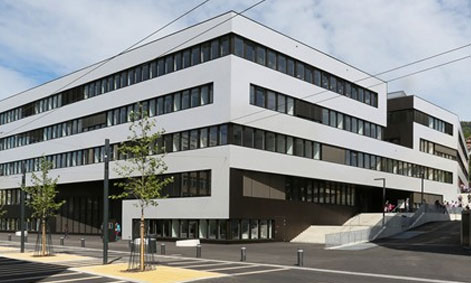 Auditoire of
EPFL MicroCity
Rue de la Maladière 73
2000 Neuchâtel
Directions
Registration and Program
Contact SUSS MicroOptics SA
Dr. Reinhard Völkel
Rouges-Terres 61
2068 Hauterive NE
Contact EPIC
Neringa Norbutaite
EPIC Events Manager
+370 624 389 91
Contact Swissphotonics NTN
Dr. Christoph S. Harder
President Swissphotonics NTN
+41 79 219 90 51
22. August 2019, Beni Muller + Iris Bollinger