Photonics in Industrial Production:
- How light is making us rethink industrial processes
- How the photon is giving a second youth to the electron
Photonic technologies with the Laser as their most significant representative are dramatically changing and improving many industrial processes. Light, and hence photonics, has become an essential part of almost any mechanical or electrical system.
The innumerable applications and products based on optics all rely on being able to control light and its properties from the tiny single photon level to the petawatt range and to interface it to mechanical and electrical engineering products.
However, to be able to fully exploit its potential, photonic techniques need to sustainably enter the industrial production halls in an effective and enduring way. To that end education has to adequately prepare the next generation of students and future actors in industry; research has to pay more attention to these emerging opportunities and has to gain access to appropriate dedicated support; industry, as a result, has to show a high dynamism, creativity and innovativeness.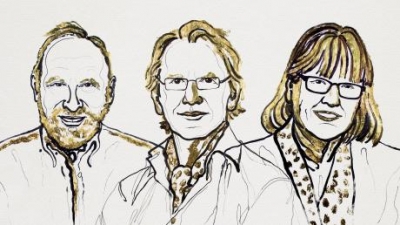 Congratulations to Arthur Ashkin, Gérard Mourou and Donna Strickland on their Nobel prize in physics 2018 for their work in the field of laser applications. It best testifies the importance of light in our society.
Illustration: Niklas Elmehed
This life cycle of photonics:
education
–
research
–
development of innovative applications and products
is the topic of this workshop.
In the first part, examples of laser based processes with large application areas – cutting and white metal coating – are reported and the implications on teaching and researching at university level are discussed. In the second part of the workshop the
Digitalisation Impulse Program
of the Swiss Confederation, which now includes also photonics, as well as a
White Paper
on photonics, are presented.
In this second part, it is envisaged to discuss in groups possible consortial themes leading to research activities in the field of photonics.
This workshop is part of the
General Assembly of Swissphotonics NTN 2018
Date
28. November 2018
---
Program
10:30 Registration GA
11:00 GA
12:00 Lunch
13:30 Photonics in Industrial Production
15:15 Networking Break
15:45 From the
White Paper
, to the
Digitalisation Impulse Program
16:25 Elaboration of project proposal ideas
17:15 Discussion
17:30 Apéro riche sponsoring Swissphotonics NTN
french Version of the White Paper
---
Venue
BUAS Burgdorf
Bern University of Applied Sciences
Berner Fachhochschule BFH-TI
Auditorium
Pestalozzistrasse 20
3400 Burgdorf BE
Directions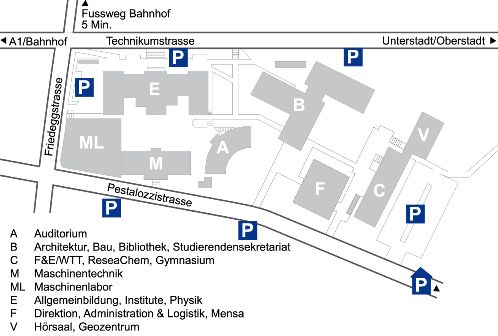 Conference language
English
Registration compulsory
This Workshop is free of charge, but registration is required. The link is on top of the page. If you would like to register more than one participant, please fill for each an individual form.
Deadline for registration 18. November 2018
Cost
This workshop is free of charge
Contact BUAS
Prof. Dr. Valerio Romano
Institute for Applied Laser, Photonics and Surface Technologies ALPS
+41 34 426 42 54
Contact Swissphotonics
Dr. Christoph S. Harder
President Swissphotonics NTN
+41 79 219 90 51
16. Januar 2019, Beni Muller + Iris Bollinger