PHOTONICS+ Virtual Exhibition and Conference
Fleet Events
, Veranstalter der Hightech-Messe W3+ Fair, präsentiert Ihnen eine echte Neuheit:
PHOTONICS+
Virtual Exhibition and Conference, in partnership with
EPIC
- die neue, digitale Networking-Veranstaltung für die Photonik-Industrie - geht erstmals online. Seien auch Sie dabei und werden jetzt Aussteller!
Die innovative Plattform PHOTONICS+ bringt die Player der Photonik-Branche mit benachbarten Technologien wie Optik, Elektronik und Mechanik und relevanten Anwenderbereichen zusammen. An zwei Nachmittagen treffen sich über 200 Aussteller mit über 5.000 erwarteten Experten im virtuellen Raum.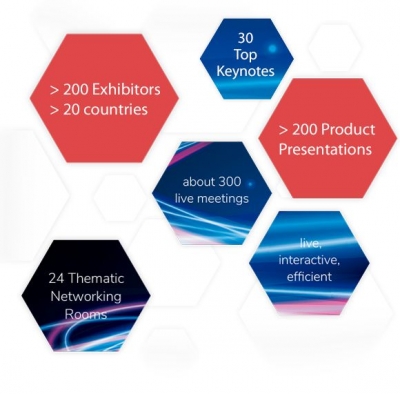 Datum
Mittwoch, 17. Februar 2021 + Donnerstag 18. Februar 2021

Programm (175 KB)
Stellen auch Sie Ihre Produkte und Dienstleistungen auf der digitalen Plattform vor!
Anmeldung für Aussteller
Kosten für Aussteller
Spezialpreis für Swissphotonics Mitglieder: 750,-€
Normaler Ausstellerpreis: 2.950,00 €
Kontakt Fleet Events
Jörg Brück
Project Director
Kontakt Swissphotonics
Dr. Christian Bosshard
Vizepräsident CSEM SA Center Muttenz
Managing director Swissphotonics
+41 61 690 60 40
30. Dezember 2020, Beni Muller + Iris Bollinger