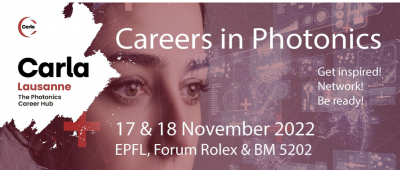 The association Swissphotonics is part of an EU project called CARLA which aims at promoting careers in photonics through the organization of a number of events throughout Europe. For this, Swissphotonics organizes jointly with EPFL the Event "Careers in Photonics" at in EPFL in Lausanne on November 17 and 18. The event replaces the yearly event of the Doctoral Program in Photonics of EPFL, the Photonics Day.
The Event is organized in the following manner:
Nov. 17 (Forum Rolex), morning, entrance
mini Photonics Day with Key-note presentations by three renown professors from Germany and the US, presentation by the best PhD thesis (best 8%) of EPFL and Poster exhibition
PhD students and Post-docs
Nov. 17 (Forum Rolex), from lunch, main course
Photonics party-like with an inspiring "Photonics is Everywhere" session followed by a "Careers in Photonics" session in two panels, followed by a prize ceremony. During the dinner and after: Music with a Jazz-Funky Band from the Jazz Campus in Basel.
ALL (recommended to undergraduate students)
Nov. 18, smaller room, morning, dessert (hybrid)
Networking (photonics associations)
Entrepreneuship
More general aspects of career paths (soft skills)
ALL (but max 75 seats)
Please register through the CARLA
website
:
The events of the CARLA project will be the basis for the organization of other similar events in the future. The need for a strong work force in photonics is expected to continue if not to increase as the annual growth rate at the global level is around 7%. The skills shortage is general to all high tech sectors and in particular those related to the development of new hardware products. The European Commission has recognized photonics as one of six Key Enabling Technologies, KETs (since 2009), and the CARLA project is addressing the skills shortage specifically in the photonics domain.
Date
Thursday, 17 November 2022 - Friday, 18 November 2022
Venue
EPFL Forum Rolex and BM5202, Lausanne
---
More information can be found here:

Careers-in-Photonics 18102022

Carla Programme Overview 1910221
---
The event is funded by the following organizations: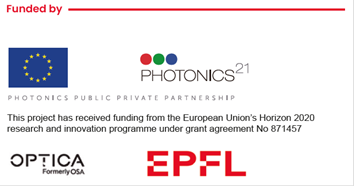 Kontakt Swissphotonics
Dr. Pierre-Yves Fonjallaz
Responsible for Romandy
20 October 2022, Christian Bosshard