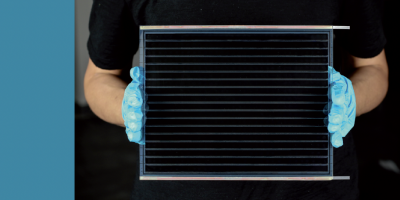 Industrialization of Perovskite Thin Film Photovoltaic Technology
The advent of hybrid perovskites in the family of solar cell technologies is spurring tremendous research activities worldwide. The major thrust for endorsing this thin film technology consists of the competitive power conversion efficiencies, low manufacturing costs and interoperability with wellestablished technologies such as crystalline silicon and CIGS.
Following the huge research effort with thousands of scientific publications every year, industrial implementation has gained impetus. This workshop shall capture the most important developments in the field of industrialization of perovskite solar cells by bringing together a panel of industrial representatives of the major players.
Please join for the next edition as an in-person meeting.
More information can be found here:

Program Workshop
Registration details can be found
here
Date
Thursday, 21 September 2023
Venue
Oxford, UK
Contact Workshop
Prof. Frank Nüesch
EMPA, Dübendorf
Contact Swissphotonics
Dr. Christian Bosshard
Managing director Swissphotonics
+61 455 957792
17 June 2023, Christian Bosshard