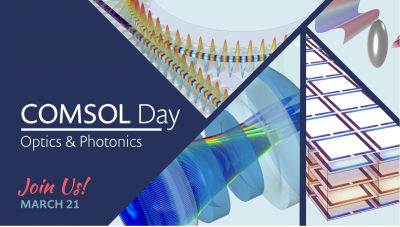 COMSOL Day: Optics & Photonics
Join fellow engineers and simulation specialists to find out, how multiphysics modeling is used in industries that rely on optics and photonics to inspire new product ideas, optimize designs and manufacturing processes, and deepen understanding.
Through technical presentations, COMSOL engineers and experienced keynote speakers will show how the COMSOL Multiphysics® software is used for design of lasers, optical waveguides, plasmonics, metamaterials, biosensors and will provide insights into the possibilities and how-tos of optical simulations.
Who should attend:
R&D engineers and scientists, everyone interested to learn how multiphysics can couple light with any other physical field to develop better products faster.
Both new people, considering using COMSOL Multiphysics® in their organization, and existing users, looking to catch the latest news, are welcome to attend this virtual event.
More details and free registration can be found
here
Date
Tuesday, 21 March 2023
Time
9:30 - 15:00
Venue
Online
Contact COMSOL Multiphysics GmbH
Alyona Friedel
Marketing & Event Manager
Contact Swissphotonics
Dr. Christian Bosshard
Managing Director Swissphotonics
+61 455 957792
27 February 2023, Christian Bosshard