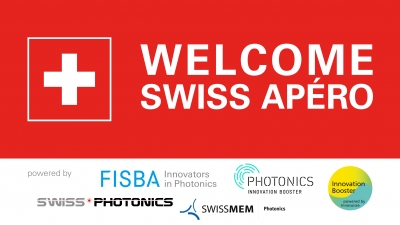 Swiss Apéro at Laser World of Photonics
Wednesday, 28 June 2023, Munich
Laser World of Photonics in Munich 2023 is just ahead. Let us meet and network within the photonics community. We are happy to announce our traditional Swiss Apéro, jointly organized by FISBA, Swissphotonics and the Innovation Booster Photonics. Come by and chat with the community in a relaxed atmosphere.

See you in Munich!

Date
Wednesday, June 28, 2023, 17:00 – 19:00

Venue
Hall B1 Booth #410 of FISBA AG, Switzerland
Messe München GmbH, Messegelände, 81823 München


Contact FISBA AG
Silke Nielsen
Leader Marketing & Communication

Contact Innovation Booster Photonics
Dr. Selina Casutt Pekarek
Managing Director

Contact Swissphotonics
Dr. Christoph S. Harder
President
+41 79 219 90 51



15 April 2023, Christian Bosshard