Supsi Industry day 2018: PV Testing for quality
After the first successful event, held in Lugano-Canobbio last year, the University of Applied Sciences and Arts of Southern Switzerland
SUPSI
, is pleased to announce the second SUPSI Industry Day, where the testing and research activities of the PV group will be presented together with the cooperations running with the other Swiss research institutes.
The final results from the analysis of the 35 years old TISO PV plant will be presented and participants will have the chance to discuss with professionals about several topics concerning quality in photovoltaics.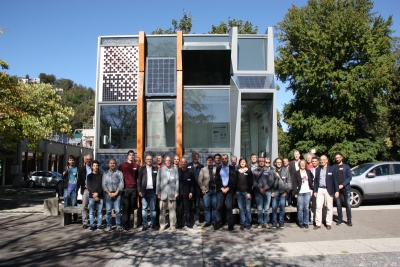 Date
Friday, 9. November 2018
Time
9:00 - 17:00
Venue

Aula Magna
SUPSI
-DACD
Aula Magna
Campus Trevano
Via Trevano
6952 Lugano Canobbio TI
Switzerland
Map
Public transport
TPL linea 3, Centro-Pregassona > fermata Stadio
TPL linea 4, Centro-Canobbio, > fermata Canobbio Centro Studi
ARL linea 633, Lugano-Canobbio-Tesserete > fermata Canobbio Centro Studi
ARL linea 441, Lugano-Canobbio-Lamone > fermata Canobbio Centro Studi
Private means
Uscita Lugano Nord; direzione Ospedale; Stadio Cornaredo; Trevano-Canobbio.
Parking
No parking is available at SUPSI
Car park
Agenda
09:00 Registration + coffee
10:00 Welcome and Workshop – first part
12:30 Lunch
13:30 PVLab visit
14:30 Workshop – second part
16:00 Apéro riche
Supported by Swissphotonics NTN
Conference language
English
Cost and Registration
This Workshop is free of charge, but online registration is required via
Supsi Form
.
Deadline: 31. october 2018
Contact Supsi
Mauro Caccivio
Supsi
Head of Photovoltaic Systems Quality Team
+41 79 521 80 09
+41 58 666 62 31
Contact Swissphotonics
Prof. Dr. Frank Alain Nüesch
SRPV Lab
+41 58 765 47 40
Dr. Christoph S. Harder
President Swissphotonics NTN
+41 79 219 90 51
8. Oktober 2018, Beni Muller + Iris Bollinger