Current events advertised on Swissphotonics website
---

PPP Annual Meeting 2019, 27 - 28 March 2019, Brussels, Belgium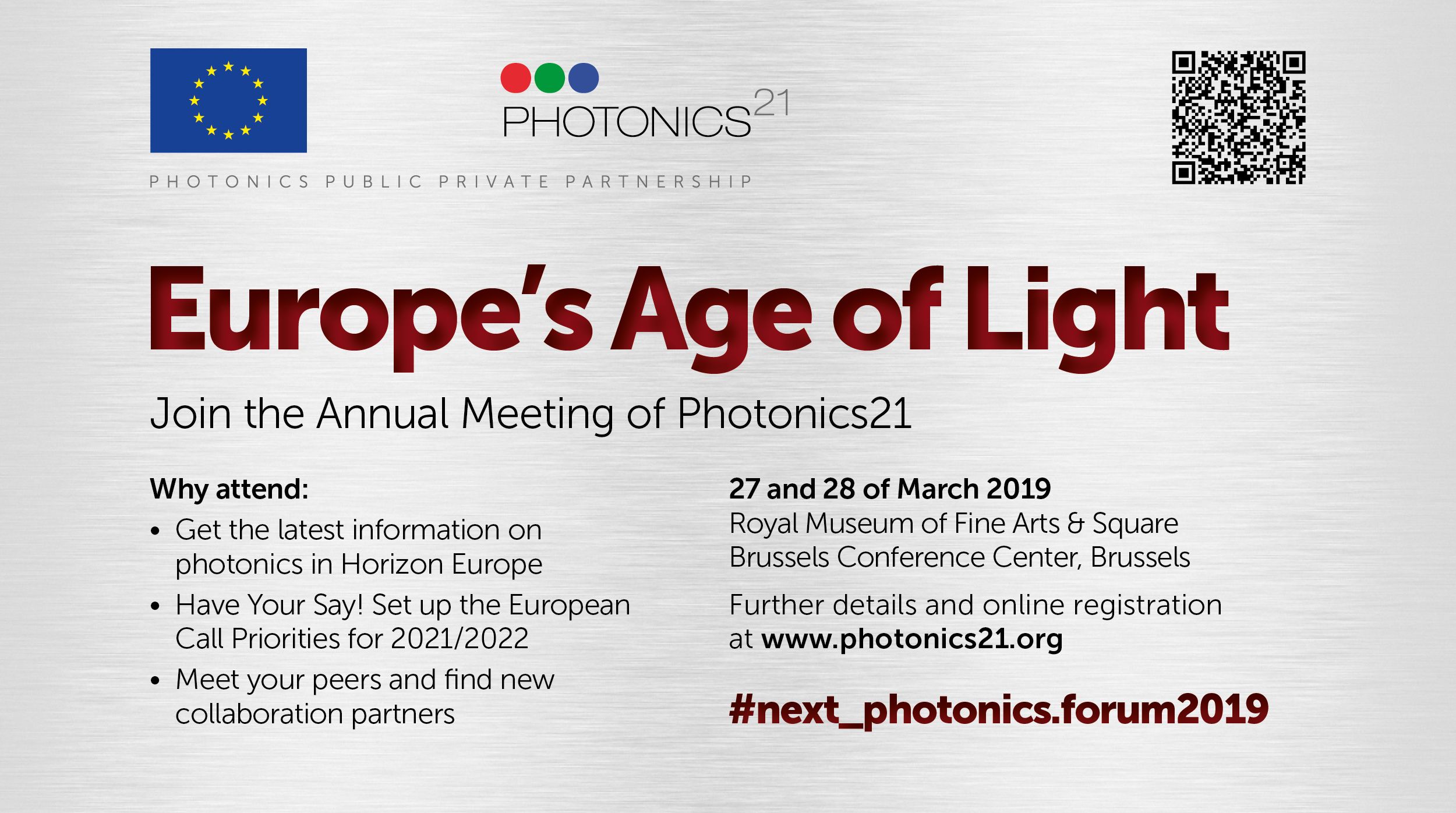 ---
A complete list of Photonics21 relevant events can be found at Photonics21 Event List
Past events advertised on Swissphotonics website
---
PPP Annual Meeting 2018, 8 - 9 March 2018, Brussels, Belgium
---
Annual Photonics21 PPP Meeting, 28 - 29 March 2017, Brussels, Belgium
---
Full LED Expo​, 8 - 9 Dec 2016, Lyon, France
---
Workshop: Funding opportunities for Swiss Companies and Research Organisations​, 28 November 2016, FHNW Olten, Switzerland
---
Photonik 4.0 – Lichttechnische Lösungen für die Produktion der Zukunft, 22 November 2016, Berlin, Germany
---
Photonics and Opto-Electronic Packaging Conference, 22 - 23 November 2016, Heriot Watt University Edinburgh, Scotland
---
Hands-on OLED Lighting Workshop & International OLED B2B Forum at the GLOW Lighting Festival, 15 November 2016, Eindhoven, Netherlands​
---
Photonics End user Workshop: Photonics 4 Forestry, 26 - 27 October 2016, Koli National Park, Finland
Forest & Photonics workshop gathers together top photonics and bio economy experts
---
Photonics End user Workshop: Photonics 4 Aeronautics and Space (PHAROS), 24 - 26 October 2016, Bordeaux, France
Sessions on:
1) Photonics for Space and Avionic domains
2) Additive Manufacturing - Technology and application domains
3) Advanced Data Transfer - From Technology to Application
---
RespiceSME, Germany, 12 October 2016, Berlin, Germany
in the framework of the international congress expo micro photonics
1st Meeting of European Photonics Clusters and Platforms
---
Inpho, Venture Summit, 6 - 7 Oct 2016, Bordeaux, France
---
Workshop: Industrie 4.0 - Chancen für die Photonik, ​4 - 4 October 2016 - 7214 Grüsch, GR, Switzerland
In diesem Workshop wurden die Chancen für Photonik betrachtet:
a) Photonische Sensoren um Geräte i 4.0 aufzurüsten und i 4.0 prozesskompatibel zu machen
b) i 4.0 um die Produktivität in Photonik Firmen zu verbessern
c) Ausbildung von Photonik Ingenieuren um sie i 4.0 fit zu machen
---
CODE_N16 Startup contest: Unveiling digital Disruption - Photonics 4.0 in the Focus
Innovative business models in the field of Photonics 4.0, Applied FinTechs, Connected Mobility and HealthTech. 50 finalist startups presented their business models at the CODE_n new Festival, 20 - 22 September 2016 and had the chance to win a prize of 30.000€.
The topic Photonics 4.0 is powered by TRUMPF.
---
2nd Entrepreneurial Boot Camp to support Photonics entrepreneurs orgnized in co-operation with the EU project Photonics 4 All, 14 - 16 September 2016 in Vienna, Austria
---
Bi-annual Biophotonics and Imaging Summer School, 5 - 9 September 2016, Galway, Ireland
---
7th EPS-QEOD Europhoton Conference Solid State, Fibre, and Waveguide Coherent Light Sources, 21 - 26 August 2016, Vienna, Austria
---
Photonics End user Workshop: Photonics 4 Precision Manufacturing, 15 - 16 June 2016, Geneva, Switzerland
Swissphotonics organized a conference and a roundtable at the leading exhibition for watchmakers and jewelers in Geneva, which attracts more than 20.000 visitors to discuss about photonics solutions for precision manufacturing.
---
Open Consultation meeting on thin, organic and large area Electronics, 15 June 2016, Frankfurt, Germany
Input to the ICT Work Program for 2018-2020 in the TOLEA area within the H2020 program.
---
European Photonics Venture Forum (EPVF), 2 - 3 June 2016, Eindhoven, Netherlands
---
Meet the Dutch in Photonics! 10th Annual Conference & Exhibition, 1 - 2 June 2016, Veldhoven (near Eindhoven), Netherlands
Photondelta and Jeppix initiative in Netherlands, Frequncey comb laser sources, Integrated photonics
---
Photonics End user Workshop: Photonics 4 Food, 1 June 2016, Zollikofen, BE, Switzerland
---
Smart Lighting 2016, 24 - 26 May 2016, Milan, Italy
---
Photonics 4 Medicine, 6th LA&HA Symposium, 20 May 2016, Bled, Slovenia
Talks by Medical Laser Experts in the field of Dentistry, Aestetics, Dermatology and Ginecology, Partnering & Network, Exhibition
---
Lasers and Nanoparticles, 4th Int. Conference, with great venue and social programme, 8 - 12 May 2016, Essen, Germany
---
End user workshop on Light-Based Solutions for Agricultural and Veterinary Applications organized in co-operation with the OASIS project, 19 - 20 May 2016, Uppsala, Sweden
Agenda: Programme Workshop Light Based Solutions Agr Vet Eco Sweden 2016
---
Photonics PPP Annual Meeting 2016: Have Your Say!, 1 - 2 March 2016 Le Plaza Hotel Brussels, Belgium


21.01.2018, Beni Muller + Iris Bollinger